If you read many books online, you've probably heard of Wattpad. Wattpad lets you read books for free. With 16.9 million unique global visitors per month, it definitely becomes a very confortable resting place for itself in the online reading market.
However, the Wattpad app is only available on iOS and Android devices. If you have an Android eReader, things will be much simpler. You just install Wattpad for Android on your eReader, and login to your account to read the interesting Wattpad stories.
What if I want to read Wattpad story on Kobo device? You may wonder if you can use the built-in web browser on kobo device to browse Wattpad website and read your favorite stories. The fact is that you can visit Wattpad website online via the kobo built in web browser, but it will take a couple hours to read two pages. Eink eReaders like Kobo or kindle are too slow for a web interface. This method is not recommended.
Is there any other method to read Wattpad on Kobo? Yes, and there are two different ways offered in this post.
Read Wattpad on Kobo with the Pocket
Despite the competition, Kobo has now allowed the Pocket to work on kobo device. With Pocket, you can save articles and stories from Wattpad and later read on your kobo eReader.
Step 1. Create a Pocket account. If you already have one, ignore this step.
On Home screen of Kobo, tap "More">>"My articles">>"Create Pocket account". Then enter your email and passwords, tap "Sign Up", then "Authorize".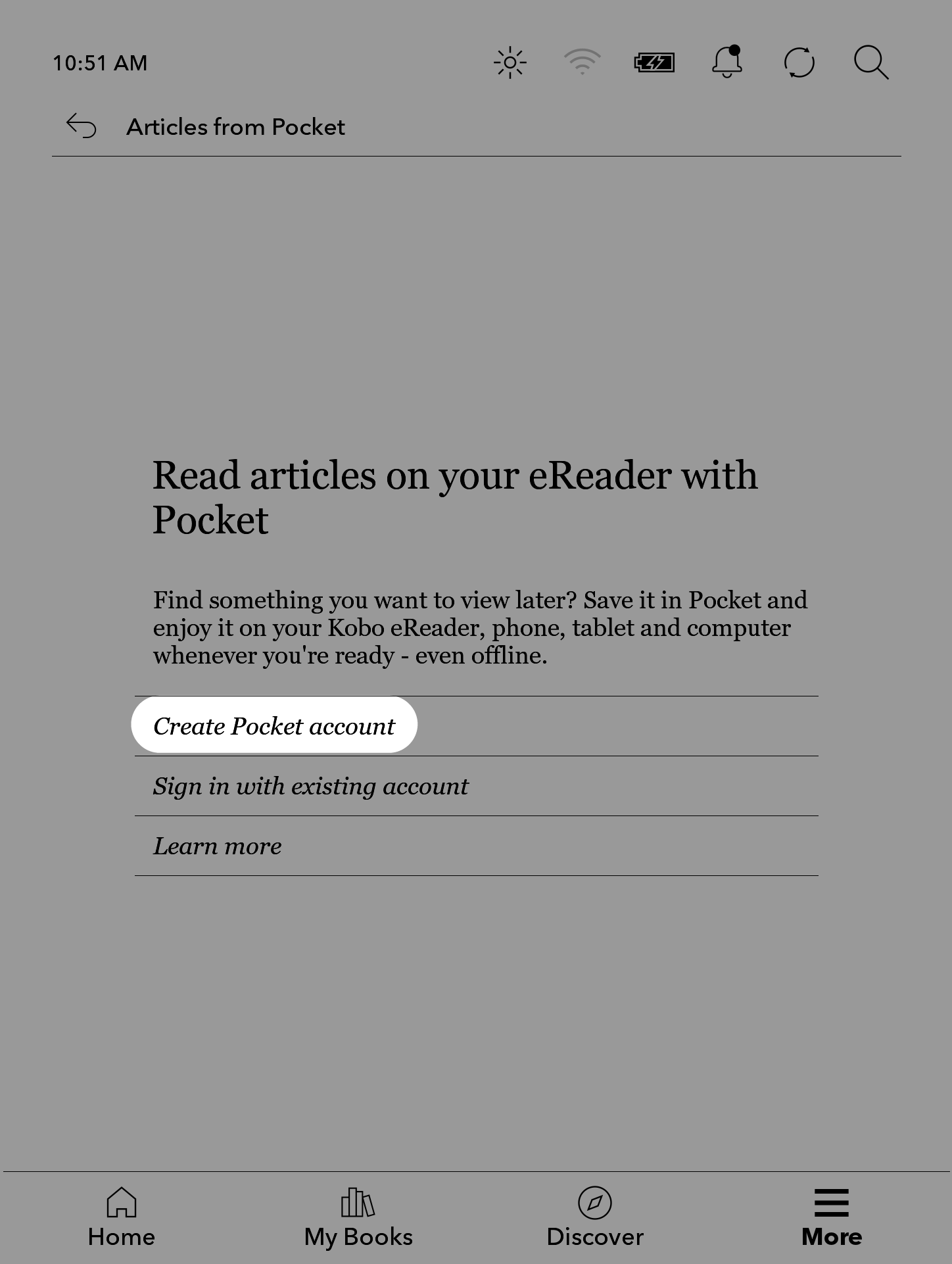 Your kobo will be set up with a Pocket account.
Step 2. Now you can go to your Pocket account on computer, then add the Wattpad stories to your Pocket account.
Visit the Pocket on your computer, and then add the Pocket add-on to your browser.
If you are using Firefox, Pocket is already built-in.
If your are using Google Chrome, install the save to pocket extension.
Once you've installed the Pocket add-on to your browser, click the Pocket icon near the top of your web browser to add the Wattpad article to your Articles from Pocket list.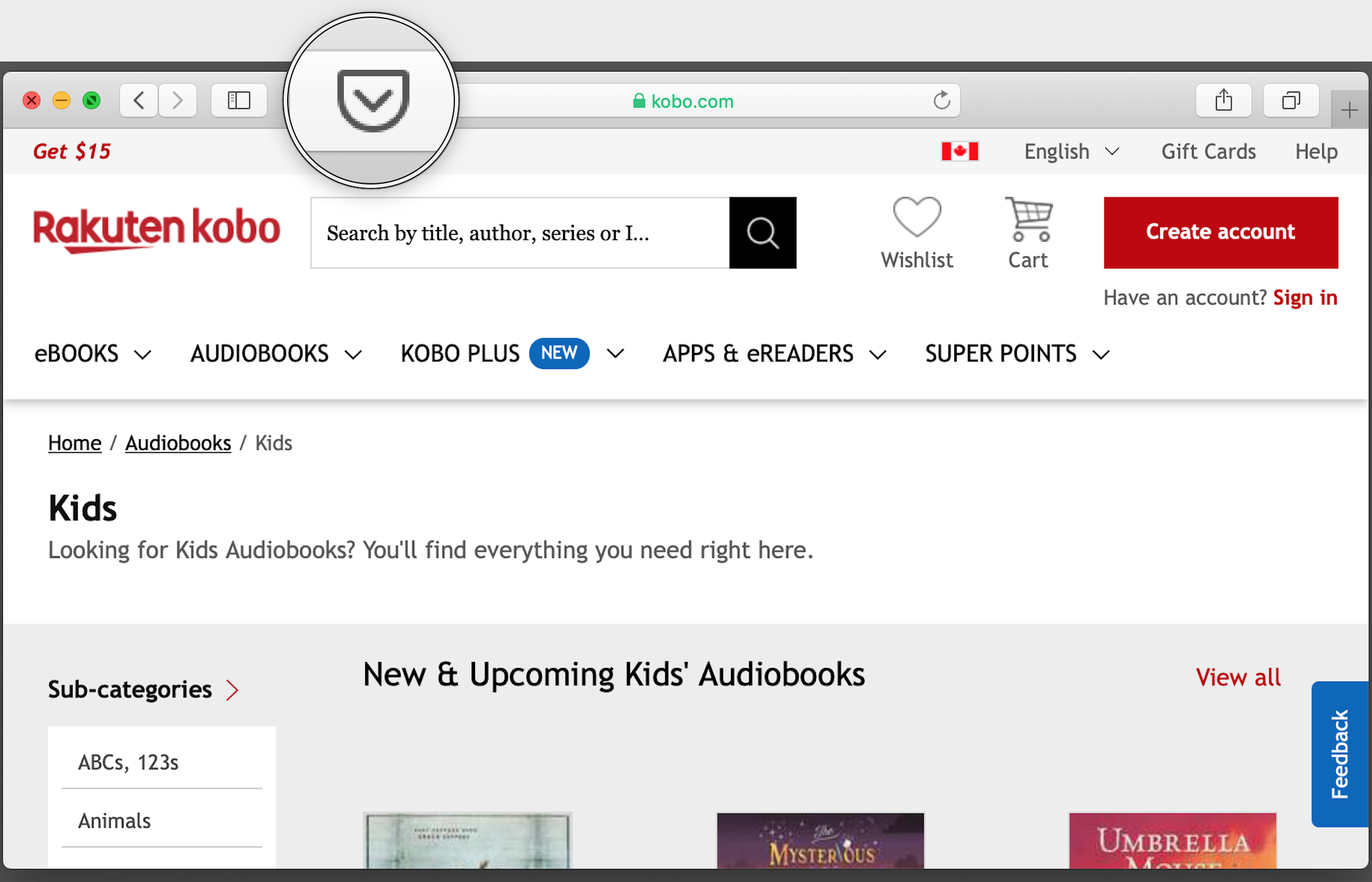 Step 3. Login to your Pocket account on kobo eReader
Go to the home screen of kobo, tap "More" >> "settings" >>"Accounts". Tap "Sign in" under the Pocket section, and then enter your Pocket credentials and then tap "Log in".
Step 4. Read Wattpad stories on Kobo eReader
Once signed in, you'll see saved Wattpad stories appear on your Kobo after you sync.
Tap "More" at the home screen, then tap "My articles", and then tap on an article to start reading Wattpad story on Kobo reader.
Note: If you cannot find the article that you've added, tap the three dots in the menu bar and then tap "Refresh".
Download and read Wattpad books on Kobo with Wattpad Downloader
In the above method, you'll need to set up the Pocket and save articles to Pocket and finally read them on Kobo eReader. But things may be not so easy cause some uncertain reason. Therefore, here I offered a much easier method to read Wattpad books on Kobo eReader with Wattpad Downloader.
When you reading on Wattpad, you've probably found that there is no downloading button for the Wattpad stories. With Wattpad Downloader, you can download your whole Wattpad Library to your computer easily. Even more, the downloaded Wattpad books will be in Kobo compatible format epub or pdf.
Here is how to download Wattpad story to Kobo.
Step 1. download and install Wattpad Downloader.
Step 2. login your Wattpad on Wattpad Downloader.
Launch Wattpad Converter, and then click on "Log in" button in the left corner to and enter your Wattpad login information, finally click on "Log in".
Step 3. Download Wattpad to Epub
Once signed in, you will see your whole Wattpad Library. Here just pick the book you want to read to the right side and then click "Convert to epub" to start the conversion.
Step 4. transfer and read Wattpad to Kobo eReader.
When the conversion is finished, click "Open" to display all your converted Epub files. Then connect the Kobo to your computer via USB. Find the folder that you want to transfer files to Kobo, drag and drop the files to Kobo directly.
Now you can read Wattpad books on Kobo.
This method will help you get the full content of your Wattpad ebooks. It also offers the best solution to backup your Wattpad books. It is highly recommended.